Sonberk Grand Cru
Palava VOC
Palava is a unique Czech variety that is a hybrid of Muller Thurgau and Gewurztraminer. It's said to get its structure from the Muller Thurgau and its aromatics from the Gewurztraminer. These can either be very citrus forward or more tea rose depending on the terroir.
This bottle represents one of the top Palava wines produced in the country. It's a balanced wine given that the residual sugars and acids are so close to one another. This wine is golden yellow in colour and very intense, full of intoxicating tropical flowers, tea rose, melon, and lychee. The taste is delicately spicy with a pleasant hint of grapefruit and orange. The finish is smooth, elegant and warm.
Alcohol: 14%
Residual Sugar: 7.4
Acids: 6.5
Palava is a very versatile wine and pairs well with a range of foods including pork pate, Christmas turkey, Peking duck, smoked cheese and even spicy cuisine such as Pad Thai.
Try it with traditional Tourtiere.
Sonberk Winery was founded in 2003, in Popice, within the largest wine subregion in Czechia, Mikulov. The location is known historically to have excellent terroir and climate for grapes since vines were first planted here by the Romans in the 2nd century AD. The winery set out to grow the highest quality grapes to produce the highest quality wines, and judging by their numerous annual awards, Winemaker Josef Slouk is achieving this mandate.
Sonberk is a low intervention winery. The 40 hectares (80 acres) of vines are cut back to 1.5 kg of grapes per vine to ensure maximum quality. The winery produces between 50,000 and 150,000 bottles annually depending on the quality of the harvest.
The winery serves both an industrial and architectural purpose. The lower area houses the primary winemaking, storage and bottling facilities. The main level is both a gathering place and a tasting room, with views of the Palava Hills, one of the most photographed scenes in Czech wine country. The wave-like roof has storage areas underneath, which allows grapes to dry naturally on beds of straw. These grapes are used to produce the Czech famous "slamové" or straw wine.
Are you interested in a wine holiday in Czechia and Austria in Spring 2024?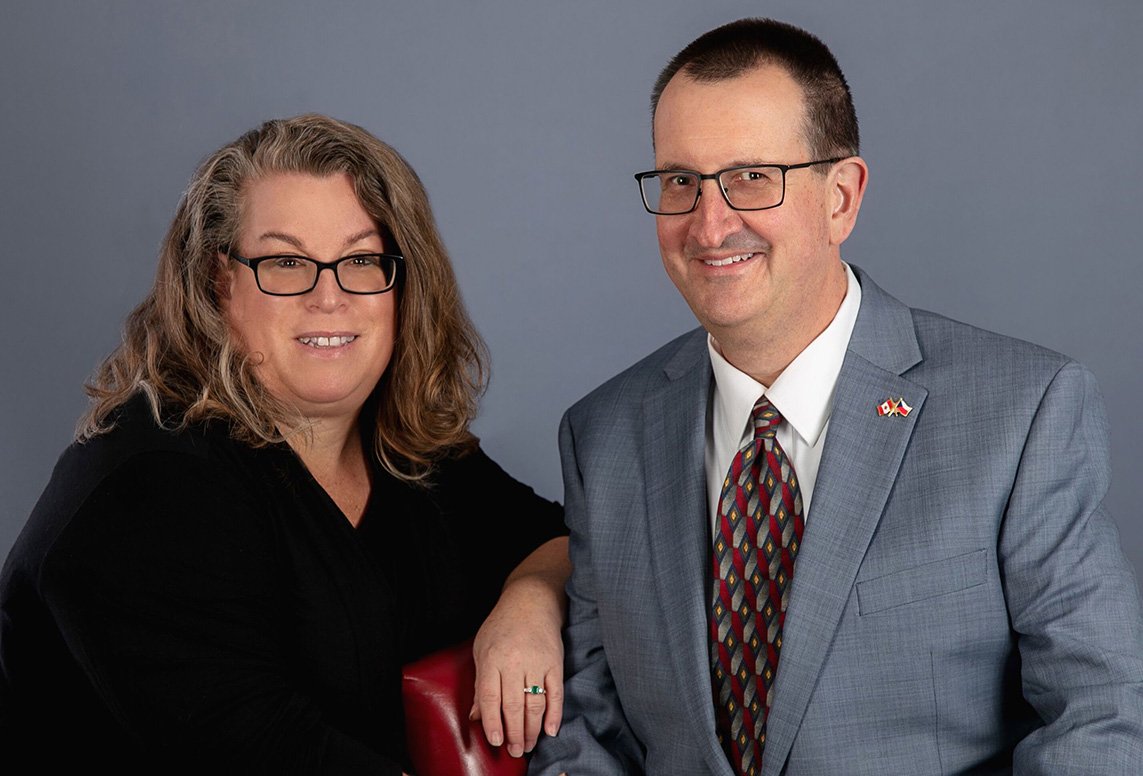 We're John and Brenda Steinsky from PEI. John is a proud first-generation Czech Canadian. Since May 2018, he has served as an Honorary Consul for the Czech Republic in PEI and New Brunswick, also covering Nova Scotia and Newfoundland in an "acting" capacity. In addition to providing consular services to Czech nationals in these provinces, John was keen to promote "economic diplomacy" with Atlantic Canadians, by sharing Czech goods and services they otherwise might not have access to.
Beer and wine seemed like good fits given the proliferation of craft brewing in the Maritimes and local interest in "new old-world wines." Czech wine is often described as "the best wines you've never heard of." We're hoping to change that!